Unblock Printer Heads - PrintHead Cleaner - Professional Formula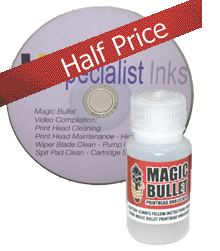 Magic Bullet - Essential Printer Maintenance Kit
Includes
1 x 60ml Magic Bullet Printhead Cleaner (half price when purchased with Video!)
1 x Essential Printer Maintenance Video
chapters include - Print Head Cleaning, Print Head Maintenance, Head Scrub, Wiper Blade Clean, Pump Cap Clean, Spit Pad Clean, Cartridge Spigot Clean
1 x Essential Printer Maintenace Kit
Price - £16.42 (excluding VAT) / Price in US dollars $24.90

Scroll down for more Magic Bullet purchasing options
Magic Bullet Printhead Cleaner - The easy way to unblock printer heads
Unblock stubborn blocked print heads FAST
Complete with full easy to follow instructions
60 ml bottle does up to 30 cleans
Works without dismantling the printer. The easy way to clean Printheads
Up until now there has been no quick solution to unblock printer heads - but now there is. This unique formula goes to work not on the outside of the blockage, but softens the dried ink from within before blasting it out, one bottle of fluid does over 30 blockages.
This product is what professional printer technicians use to clear stubborn printer nozzle blockages.
Comes complete with instuctions. One bottle and applicator does over 30 cleans. This product is suitable for use on Epson printers
60 ml bottle of Magic Bullet Printer Head Cleanerincludes gloves, syringes, kit etc.
Essential Printer Maintenance video - Learn the techniques as used by printer technicians
This video demonstrates all the techniques which will allow you to keep or restore your printer to "as new". Included with this video for a limited time for HALF PRICE is The world famous Magic Bullet Printhead Cleaner.

The videos are handily on 1 CD which will run on all Laptops and PCs, which make it ideal to watch as you are working on your printer. The Printers shown in the videos are Epson printers, however the professional techniques shown are suitable for almost all printers.
Chapters Include
Print Head Cleaning, Print Head Maintenance, Head Scrub, Wiper Blade Clean, Pump Cap Clean, Spit Pad Clean, Cartridge Spigot Clean.
Magic Bullet Printhead Cleaner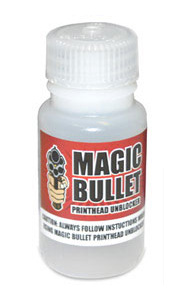 1 x 60ml bottle of Magic Bullett PrintHead Cleaner
Price £10.42 (excluding VAT) / Price in US Dollars $15.74

2 x 60ml bottle of Magic Bullett PrintHead Cleaner
Price £19.95 (excluding VAT) / Price in US Dollars $29.98



Testimonials
Thank you for your maintenance videos. They are very useful and the ones I have tried have proved very effective.
Thanks, Martin

I recently received some of your Magic Bullet printer head cleaner.
I used it today on a very stubborn Epson SP895. I put some kitchen paper under the print head to absorb and retain any fluid that passed through. Otherwise followed the instructions and low and behold after just four nozzle cleans and print checks, a clear bill of health. Printed a photo and where the yellow ink previously refused to appear, everything is now Ok. It is just a pity that I hadn't heard of your product before I went out and bought a new printer.
Many thanks.

Regards, Ross Wright.


Thank you for your follow up email. My purchase of Magic Bullet arrived on time and after a few attempts I finally managed to clear the blocked printer heads on my Epson SX600FWD. This was definitely a cheaper option to buying a new printer.

Regards, Peter
How to Unblock Print Heads with Magic Bullet Print Head Cleaner

Step 1.
Carefully remove the cartridges to reveal the intake for the print head. It is advisable to do one cartridge at a time.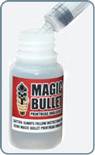 Step 2.
Draw about two millilitres of Magic Bullet up in to the syringe.
Carefully place the tube over the intake for the printer head, very gently and slowly press the syringe to inject a small amount ( half a millilitre ) of the printer head restorer. It's very important that too much force is not used, printer heads are very fine and too much force can damage the nozzles.

Step 3. After injecting a small amount of printer head restorer leave the syringe connected, this will allow the fluid to stay in contact with the blockage. For really badly blocked printer nozzles, every ten minutes push the syringe a little more causing more fluid to wash past the blockage. As before take care not to use too much force, it's also possible to push and then pull the syringe back, causing a see-saw action. The longer the fulid is in contact with the blockage the better the results.