Cleaning Blocked Printer Heads
Which PrintHead Cleaner do Professional Technicians use?
Up until now there has been no quick solution to unblock printer heads - but now there is. This unique formula goes to work not on the outside of the blockage, but softens the dried ink from within before blasting it out, one bottle of fluid does over 30 blockages.
This product is what professional printer technicians use to clear stubborn printer nozzle blockages.

Comes complete with instructions. One bottle and applicator does over 30 cleans. This product is suitable for use on Epson printers.
60 ml bottle of Magic Bullet PrintHead Cleaner includes gloves, syringes etc in kit
We also sell an Essential Printer Maintenance video packed full of professional tips and techniques to keep your printer as new!
Essential Printer Maintenance Video
The Essential Printer Maintenance Video shows you how to keep to restore your printer to "as new" and is ideal for use with our world famous Magic Bullet Printhead Cleaner.
The videos are handily on 1 CD which will run on all Laptops and PCs, which make it ideal to watch as you are working on your printer. The Printers shown in the videos are Epson printers, however the professional techniques shown are suitable for almost all printers.
Chapters Include
Print Head Cleaning, Print Head Maintenance, Head Scrub, Wiper Blade Clean, Pump Cap Clean, Spit Pad Clean, Cartridge Spigot Clean.
Our Essential printer maintenance video will give you all the techniques as used by professionals to either restore your old printer, or keep your printer as new! When purchased with a Magic Bullet this this video is half price!
Usual price £12 add the Essential printer maintenance video with a Magic Bullet and this video packed full of tips is only £6!
Essential Printer Maintenance Kit
Includes
1 x 60ml Magic Bullet Printhead Cleaner
1 x Essential Printer Maintenance Video
(half price when purchased with Magic Bullet!)
chapters include - Print Head Cleaning, Print Head Maintenance, Head Scrub, Wiper Blade Clean, Pump Cap Clean, Spit Pad Clean, Cartridge Spigot Clean

1 x Essential Printer Maintenance Kit
Price - £16.42 (excluding VAT) / Price in US dollars $24.90

1 x 60ml bottle of Magic Bullet PrintHead Cleaner
Price £10.42 (excluding VAT) / Price in US Dollars $15.74

2 x 60ml bottle of Magic Bullet PrintHead Cleaner
Price £19.95 (excluding VAT) / Price in US Dollars $29.98




Why do printer heads block, and tips on using Printhead Cleaner
The answer to this is simple, ink dries on contact with air, we expect ink to dry immediately on contact with the paper. As our demands grow for printers that can replicate more detail the size of the nozzles decrease while the number of nozzles increases, this leads to printers becoming more susceptible to blockages.
The most common kind of blocked printer heads are where no prints have been produced for a period of time, the longer you wait in between printing the greater the chance of ink drying in / or on the head, newly installed cartridges can also causes blockages due to tiny electrostaticly charged air bubbles blocking the print head, these will dissipate over a few hours, after which a basic nozzle clean will charge the print head allowing prefect prints to be made.
The third and rarest form of blockage is caused by the ink it's self, most inks these days are of good quality and don't cause the ink to flocculate or clog. If you purchase your ink from a high quality source it is highly unlikely that the ink will be the cause of the problem.
Before we start on tips to rectify blocked printer heads, lets clear one thing up, doing multiple cleaning cycles will not cure anything, by running successive cleans all you will accomplish is the wasting of ink ( a lot of ink ), the filling up of your maintenance tank and causing ink to accumulate on the underside of the print head, which will make matters worse since it will dry very quickly and compound the problem.
If the blockage is not that bad and only a few gates in the nozzle check are missing a test print with an array of basic colours is often all you need to get your printer working again. If the yellow channel is partially blocked, open Photoshop up, create a new page to match the size of your media and colour it yellow, run 3 or 4 prints off, this should cure light blockages. If an improvement is witnessed but the nozzle check is still not 100% wait 30 minutes and repeat.
If the above does not remedy your problem or the blockage is more severe read about our unique printhead cleaner which works from the inside out, cleaning blocked heads and flushing away dried in for good.
Basic information on unblocking heads Epson 1290 – 2100 printers.
Unblocking printer heads using Magic Bullet Clean Print Head Restorer.
Prevention is better than cure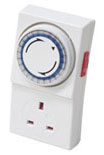 In an ideal world you should print at least once every other day, but in reality this does not happen. On days when no printing is being carried out, it is recommended to turn your printer off and then on. This forces the printer to carry out a mini cleaning cycle which will be enough to ensure that blockages don't occur. Most of us know this, and yet all of us forget to do it, therefore the following tip will save you a lot of time and ink:
Ink Jet Printer Cleaning Products
IPA Cleaning Fluid
Ink Jet Cleaning Kit
Magic Bullet Printer Head Restorer