Canon i9950 Refillable Cartridge System with Lyson Ink
?>
Prices starting from just £98.49 excluding VAT, The Canon i9950 Refillable Cartridge System includes

8 Canon i9950 Refillable Cartridges with Syringes
8 Lyson Fotonic XG Bulk Ink bottles in 30ml, 60ml or 125ml
Lyson Ink included is equivalent 3 sets of ink cartridges with the 30ml pack, 6 ink cartridges with the 60ml pack and 13 sets of ink cartridges with the 125ml pack
FREE Marrutt sample paper pack (8 x A4 sheets)
FREE custom profile worth £30 + VAT for any Marrutt Paper
The cartridges replace: BCI-6 BK black, BCI-6C cyan, BCI-6M magenta, BCI-6Y yellow, BCI-6 PM photo magenta, BCI-6PC photo cyan, BCI-6G Green and BCI-6R Red

Canon i9950 30ml 8 Refillable Cartridge Set: Price £98.49 (Excluding VAT)

8 Canon i9950 Refillable Cartridges with Syringes
8 Lyson Fotonic XG Ink refill bottles in 30ml

The Canon i9950 Refillable Cartridge System signals the end of wasteful, expensive disposable cartridges! Instead a refillable cartridge system which provides a continuous flow of Lyson bulk ink. Save up to 75% ink refill costs. Great ink savings without the extra add-on that is the continuous ink supply system (ciss)!
CANON I9950 REFILLABLE CARTRIDGES
The Canon i9950 Refillable Cartridge System is simple to set up and provides continuous Lyson bulk ink delivery. Simply fill each Canon i9950 refillable cartridges with Lyson Bulk inks and then start printing. When Lyson ink levels start going down, the ink status monitor will alert you of this. Simply take out the refill cartridge and top up with Lyson Fotonix XG bulk ink.
KEY FEATURES OF THE CANON I9950 REFILLABLE CARTRIDGE SYSTEM
Excellent colour performance with high gloss appearance
Saves up to 75% on ink costs!
Similar stability and longevity as OEM brandset
Status monitor functions as normal
Installation of Canon i9950 Refillable Cartridge system is quick and simple
Outstanding, experienced after sales support
Choice of 30ml, 60ml and 125ml sets of Lyson Bulk Ink for Canon i9950
Canon i9950 60ml 8 Refillable Cartridge Set: Price £148.49 (EXC VAT)
8 Canon i9950 Refillable Cartridges with Syringes
8 Lyson Fotonic XG Ink refill bottles in 60ml
Canon i9950 125ml 8 Refillable Cartridge Set: Price £218.49 (EXC VAT)
8 Canon i9950 Refillable Cartridges with Syringes
8 Lyson Fotonic XG Ink refill bottles in 125ml

Canon i9950 8 Cartridge Refillable Set (excluding inks): Price £39.49 (EXC VAT)
8 Canon i9950 Refillable Cartridges with Syringes (excluding ink)
Lyson Fotonic XG Ink Refills for Canon i9950
Individual 125ml bottles available - complete set of 60ml bottles available - discounted sets of 125ml bottles available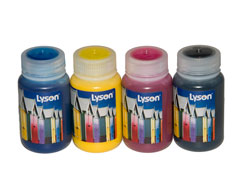 Lyson Fotonic XG 125ml bottles: Price £24.99 per 125ml bottle (excluding VAT)
Complete set of 8 x 125ml Lyson Fotonic XG bottles for Canon i9950
free Marrutt Sample Media Pack (8 x A4)
free custom profile
free set of funnels

Price £178.49 (Exc VAT)
Complete set of 8 x 60ml Lyson Fotonic XG bottles for Canon i9950
free Marrutt Sample Media Pack (8 x A4)
free custom profile
free set of funnels

Price £118.99 (Exc VAT)