Epson R2000 - Marrutt Professional Photographic Inks
Epson R2000 Refillable Cartridge System

Epson R2000 Refillable Cartridge System 30ml kit only £99.49 (Excluding VAT)

The Epson R2000 Refillable Cartridge System signals the end of wasteful, expensive disposable ink cartridges! Instead a refillable cartridge system which provides a continuous bulk ink flow of Marrutt Professional Photographic ink, creating exceptional quality prints at an affordable price.

Epson R2000 Refillable Cartridge System 30ml kit includes

8 x Epson R2000 Refillable Cartridges with Syringes
8 x 30ml Marrutt Professional Photographic bulk Ink bottles

FREE Marrutt professional photographic sample paper pack (8 x A4 sheets)
FREE custom profile worth £30 + VAT for any Marrutt Pro Paper


Price: £99.49 (Excluding VAT)




scroll down for 60ml and 125ml Epson R2000 RCS options
Specialist Inks are offering The Epson R2000 Refillable Cartridge System at a price of only £99.49 excluding VAT, this includes -
8 x Epson R2000 Refillable Cartridges with Syringes
8 x 30ml, 60ml or 125ml Marrutt Professional Photographic Bulk Ink bottles
FREE Marrutt pro media sample paper pack (11 x A4 sheets)
FREE custom profile worth £30 + VAT for any Marrutt Paper
VIDEO SHOWING HOW EASY IT IS TO CHANGE TO REFILLABLE CARTRIDGES
Epson R2000 Refillable Cartridge System 60ml kit only £124.99 (EXC VAT) includes
8 x Epson R2000 Refillable Cartridges with Syringes
8 x 60ml Marrutt Professional Photographic bulk Ink bottles

FREE Marrutt professional photographic sample paper pack (11 x A4 sheets)
FREE custom profile worth £30 + VAT for any Marrutt Pro Paper

Price: £124.99 (EXC VAT)
Epson R2000 Refillable Cartridge System 125ml kit only £149.99 (EXC VAT) includes
8 x Epson R2000 Refillable Cartridges with Syringes
8 x 125ml Marrutt Professional Photographic bulk Ink bottles

FREE Marrutt professional photographic sample paper pack (11 x A4 sheets)
FREE custom profile worth £30 + VAT for any Marrutt pro Paper

Price: £149.99 (Exc VAT)
The Epson Stylus R2000 Refillable Cartridge System is simple to set up and provides a continuous bulk ink flow of Marrutt Pro ink. Simply fill each Epson R2000 refillable cartridge with Marrutt Professional inks and then start printing. When printer ink levels start going down, the ink status monitor will alert you of this. Simply take out the Epson R2000 refillable cartridge, top up with printer ink and then reset the chip using the reset tab.
INTRODUCE EPSON R2000 REFILLABLE CARTRIDGES ALONGSIDE EXISTING OEM CARTRIDGES
No need to change all Epson R2000 refillable cartridges at once as they can be used alongside the OEM cartridges, with minimal change to colour output.
DELIVERS CONTINUOUS BULK INK FLOW, IN EXACTLY SAME WAY AS OEM CARTRIDGES
The Epson R2000 refillable cartridge system, unlike an Epson R2000 Continuous Ink System (CIS), delivers in excatly the same way as the OEM cartridges, this enables a reliable flow of Marrutt bulk ink. Furthermore changing to the Epson R2000 refillable cartridges are easy and extremely cost effective.
KEY FEATURES OF EPSON STYLUS R2000 REFILLABLE CARTRIDGE SYSTEM
Excellent colour performance and superb black and white appearance
Install your Epson R2000 refillable cartridges alongside existing OEM cartridges
Saves up to 80% on printer ink costs!
Similar stability and longevity as OEM brandset
Reliable Marrutt pro Bulk Ink flow in same manner as OEM cartridges (unlike Epson R2000 Continuous Ink System CIS)
Status monitor functions as normal
Installation of Epson R2000 Refillable Cartridge system is quick and simple
Outstanding, experienced after sales support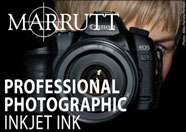 Individual Refillable Cartridges - Epson R2000
Priced at the same level as Genuine Epson Ink Cartridges and exclusive to Specialist Inks, we are delighted to announce all new individual refillable cartridges for the Epson R2000.

Each Epson R2000 refillable cartridge comes with a 30ml bottle of Marrutt Professional Photographic Ink. This is in comparison to an Epson Ink Cartridge where you get just approximately 10ml of useable ink. Therefore you are buying 3 times as much Ink for the same price!

Another added benefit is that you can change over to a refillable cartridge one colour at a time, enabling you to use all of your expensive original brand ink and start saving money immediately!
Advantages of Individual Refillable Cartridges for Epson R2000
Save money instantly as Marrutt Pro Ink is plug and play
Change to a refillable cartridge as you would change your OEM cartridge
When it comes to refilling your refillable cartridge, Marrutt Pro Ink is 80% cheaper than Epson Ink.
Marrutt Pro bottles are heat sealed, simply pierce foil with syringe to refill cartridge
(as shown below)

Epson R2000 Individual Refillable Cartridge includes -
Refillable Cartridge complete with self-resetting chip - for which ever colour you require
A Filling Syringe (unique ink transfer tube for super-clean ink filling)
30ml bottle of Marrutt Professional Ink - for which ever colour you require
Full Instructions

Price : £13.95 (Excluding VAT)
Marrutt Professional Photographic Ink for Epson R2000
If you use OEM cartridges, or are already using third party inks for your Epson R2000 and are interested in saving money without compromising on quality, then Marrutt Professional Photographic Ink is for you. Marrutt Professional Photographic Ink is manufactured in the US, and delivers outstanding colour performance as well as professional quality black and white printing and longevity. Marrutt Professional Photographic Ink is used by professionals worldwide.  
Individual or complete set of Marrutt Professional Photographic Ink 125ml bottles available, for use with Epson R2000 refillable cartridge system.
complete sets of Marrutt Professional Photographic Ink 60ml bottles available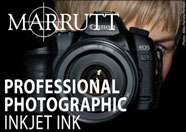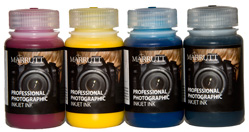 Individual Marrutt Professional Photographic Ink 125ml bottles Price £19.95 (EXC VAT)
Complete set of 8 x 125ml bottles
8 x 125ml bottles of Marrutt Professional Photographic Inks - Epson R2000 Ink
Contains: Magenta, Cyan, Yellow, Red, Orange, Black, Matt Black and Gloss
Price: £149.99 per set. (EXC VAT
Complete set of 8 x 60ml bottles
8 x 60ml bottles of Marrutt Professional Photographic Inks - Epson R2000 Ink
Contains: Magenta, Cyan, Yellow, Red, Orange, Black, Matt Black and Gloss
Price: £91.49 per set. (EXC VAT